My Blog
Posts for tag: porcelain veneers
By Southern Maryland Family and Prosthodontic Dentistry
June 03, 2020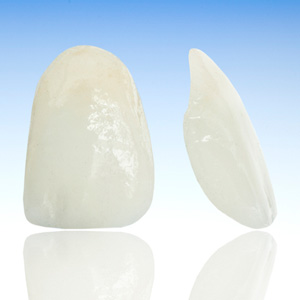 If you have a less than attractive smile due to some moderate imperfections, dental veneers may be the answer. This relatively inexpensive dental restoration may be the key to transforming your smile.
If you're thinking of veneers as a "thin covering," you're on the right track. Just like construction veneers used to cover wall surfaces, dental veneers are thin wafers of material (usually porcelain) that cover the front of tooth surfaces. Made uniquely for the individual patient, veneers provide a life-like covering that can mask a variety of dental imperfections.
Veneers are mildly invasive, meaning some of the enamel layer of the teeth to which they're bonded will need to be removed. If this alteration occurs, it's permanent, so the teeth will require a veneer or other restoration from then on. It's usually necessary, though, so that the veneer doesn't appear too bulky. Even so, veneers are still less invasive than other restorations.
The list of appearance problems veneers can address is quite varied. One of their more common uses is to correct certain structural flaws in teeth: chips, abnormal tooth shape from wear or teeth that are congenitally smaller than normal.
They're also a remedy for heavy staining. While teeth whitening can temporarily brighten a dull, dingy smile, veneers provide a permanent solution for the problem of staining. They're also a practical option for internal tooth staining, which can't be addressed by either home or professional external teeth whitening procedures.
Finally, veneers may be used to close small gaps and other mild forms of dental misalignment. And although they may not be able to correct larger gaps by themselves, they're sometimes used in conjunction with orthodontic treatment.
Veneers can address many dental flaws, but not all. To see if your dental situation could benefit from a veneer application, you'll need to undergo a complete dental examination. If it seems veneers aren't a good fit for you, your dentist will discuss other types of cosmetic treatments to improve your smile.
If, on the other hand, veneers do appear to be a viable option for you, you're just a few visits away from a completely new look. Veneers can change your smile—and your life!
If you would like more information on porcelain veneers, please contact us or schedule an appointment for a consultation. You can also learn more about this topic by reading the Dear Doctor magazine article "Porcelain Veneers: Strength & Beauty as Never Before."
By Southern Maryland Family and Prosthodontic Dentistry
December 16, 2019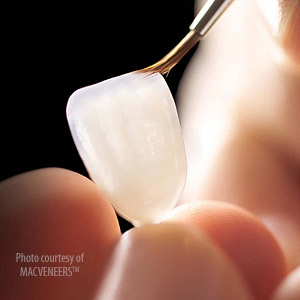 Getting a new smile doesn't have to be an elaborate affair. If your teeth have minor to moderate chips, stains or tooth gaps, dental veneers could be the answer. These thin wafers of dental porcelain mask tooth imperfections and completely change your smile's dynamic—and without a huge impact to your wallet.
To achieve that effect, though, your personal set of veneers will require the expertise of both your dentist and a dental lab technician to design and create your veneers. And while there are numerous considerations in achieving a truly life-like appearance with veneers, one of the most important is their color.
We always associate the color white with teeth. And while it is the dominant hue, actual tooth color is more complex. An individual tooth is comprised of multiple shades and tints, that range in variation from its biting edge to the gums. Likewise, tooth color in general can differ from person to person.
Your dentist must take these individual color variations into account while designing your new veneers, especially if you'll be getting them for some but not for all your teeth. In that case, it's important for the veneer color to blend seamlessly with the color of your natural teeth without veneers.
Your new smile expectations and desires are also important and should be considered when designing veneer coloring. For instance, do you want a more natural look—or would you prefer a smile with more "dazzle"? This could have an impact on color.
Your dentist takes all of this information (including your input) and communicates it clearly to the dental lab technician creating the veneers. That process is a combination of both science and artistry, using a variety of techniques to achieve an accurate, life-like texture and color result. For example, a technician may paint the edges of the veneers with a ceramic paste that when cured produces a life-like translucency.
This meticulous attention to color detail is necessary to create beautiful veneers that look natural. If the color is right, you're sure to enjoy the change your veneers bring to your smile for many years to come.
If you would like more information on transforming your smile with dental veneers, please contact us or schedule an appointment for a consultation. You can also learn more about this topic by reading the Dear Doctor magazine article "Porcelain Veneers: Your Smile—Better Than Ever."
By Southern Maryland Family and Prosthodontic Dentistry
June 19, 2019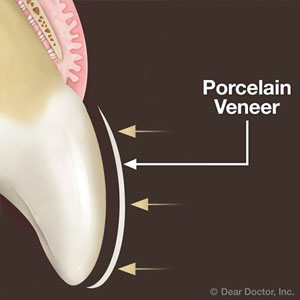 Your teeth are sound and healthy—but appearance-wise, they're nothing to write home about. It's nothing major: a chip, some heavy staining or perhaps a slight gap between the front teeth. But whatever the blemish, it bothers you every time you look in the mirror.
There's an affordable way to improve your smile without a lot of extensive treatment: porcelain veneers. These thin layers of dental porcelain are bonded to the teeth's exterior to mask the blemishes beneath. All you and others can see, though, are beautiful teeth blending seamlessly with the rest of your natural teeth.
Changing your smile with veneers begins with a consultation with your cosmetic dentist. During your visit you'll discuss what you would like to improve and how you would like your smile to appear afterward. It's helpful to take along magazine photos or other images of how you'd like your teeth to look.
After making impressions and getting other necessary measurements, your dentist may then be able to show you what your new veneers will look like. One way is through computer software that superimposes your proposed new look onto a photograph of your face. Your dentist may also be able to create test veneers with acrylic or other dental materials and apply them to your teeth. These aren't your permanent veneers, but they can still give you a realistic view of your future smile.
Once your measurements are on the way to the dental lab to custom create your veneers, your dentist must prepare your teeth for bonding. Although veneers are quite thin, they may still appear bulky when bonded to the teeth. To create a more natural look, you'll probably need some of the enamel layer of your teeth removed to accommodate the extra width. Even though this is a small amount, it will permanently alter your teeth and require some form of restoration from then on.
After your veneers arrive, the dentist will attach them with a translucent cement that will bond them seamlessly to the natural teeth. You and others won't be able to see where the veneer ends and the natural tooth begins. What you will see, though, is a new look for your teeth and a more attractive smile.
If you would like more information on porcelain veneers, please contact us or schedule an appointment for a consultation. You can also learn more about this topic by reading the Dear Doctor magazine article "Porcelain Veneers: Strength & Beauty as Never Before."