My Blog
Posts for tag: orthodontic treatment
By Southern Maryland Family and Prosthodontic Dentistry
February 19, 2019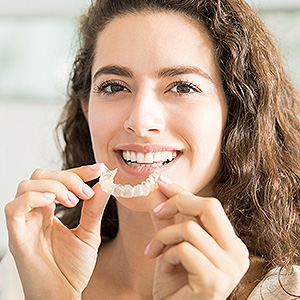 Wearing orthodontic braces brings challenges to daily life. During treatment a patient will need to avoid certain foods and habits, take more time to brush and floss properly, and may endure occasional discomfort. But the effect of metal braces on appearance can be especially difficult, especially for peer-conscious teens.
Clear aligners, though, offer an alternative to braces that could make some of these challenges easier, particularly with your appearance. Aligners are clear plastic trays that fit over the teeth to move them. They can be removed by the wearer for easier brushing and flossing or for special occasions. Best of all, they're much less noticeable than metal braces.
Clear aligners were developed thanks to advances in digital technology. An orthodontist uses a computer application incorporating the data from photographs, x-rays or CT scans of a patient's teeth and jaws to produce a series of clear plastic trays. The patient then wears each tray for about two weeks before changing to the next tray in the sequence.
The trays apply pressure much like metal braces to gradually move teeth to the desired position on the jaw. Each tray is slightly smaller in size than the previous tray in the sequence, so that the progression of tooth movement continues with each succeeding tray. The treatment time is about the same as with conventional braces.
This new orthodontic tool works well for many common bite problems, but until recently they've been limited in scope. But new designs in trays and attachments called buttons added to teeth to provide more leverage have greatly increased their use for more complex bite issues.
Clear aligners also have one other disadvantage, ironically due to one of their principal benefits, removability. Although they can be taken out, they must be worn consistently to achieve results. Some younger patients may not have the maturity level and discipline to responsibly wear their aligners as they should.
That's one issue you'll need to discuss with your orthodontist if you're considering clear aligners for your teen. But if they can maintain wearing consistency, and they have a bite problem that can be corrected with aligners, both you and your teen may find this choice more agreeable and attractive than braces.
If you would like more information on clear aligners, please contact us or schedule an appointment for a consultation. You can also learn more about this topic by reading the Dear Doctor magazine article "Clear Aligners for Teens."
By Southern Maryland Family and Prosthodontic Dentistry
October 21, 2018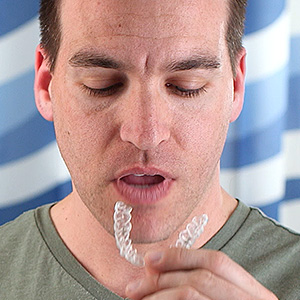 What do a teenager with a poor bite, a senior citizen with multiple missing teeth or a middle-aged person with a teeth grinding habit all have in common? They may all depend on a dental appliance for better function or appearance.
There's a wide variety of removable dental appliances like clear aligners or retainers for orthodontic treatment, dentures for tooth loss or night guards to minimize teeth grinding, just to name a few. But while different, they all share a common need: regular cleaning and maintenance to prevent them from triggering dental disease and to keep them functioning properly.
The first thing to remember about appliance cleaning is that it's not the same as regular oral hygiene, especially if you have dentures. While they look like real teeth, they're not. Toothpaste is a no-no because the abrasives in toothpaste designed for tooth enamel can scratch appliance surfaces. These microscopic scratches can develop havens for disease-causing bacteria.
Instead, use liquid dish detergent, hand soap or a specific cleaner for your appliance with a different brush from your regular toothbrush or a specialized tool for your particular appliance. Use warm but not very hot or boiling water: while heat indeed kills bacteria, the hot temperatures can warp the plastic in the appliance and distort its fit. You should also avoid bleach—while also a bacteria killer, it can fade out the gum color of appliance bases.
Be sure you exercise caution while cleaning your appliance. For example, place a towel in the sink basin so if the appliance slips from your hands it's less likely to break hitting the soft towel rather than the hard sink. And while out of your mouth, be sure you store your appliance out of reach of small children and pets to avoid the chance of damage.
Cleaning and caring for your appliance reduces the risk of disease that might affect your gums or other natural teeth. It will also help keep your appliance working as it was designed for some time to come.
If you would like more information on care and maintenance for oral appliances, please contact us or schedule an appointment for a consultation.
By Southern Maryland Family and Prosthodontic Dentistry
July 24, 2017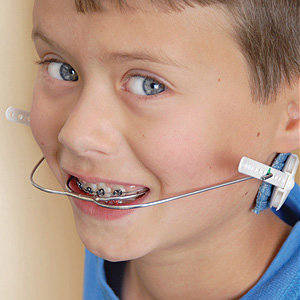 Braces utilize the mouth's existing teeth-moving mechanism by applying pressure in the direction of the desired movement. This is done with a wire laced through metal brackets affixed to the outside of the teeth that's then usually anchored to brackets on the back teeth to maintain constant tension.
This anchorage set-up alone, however, may not work effectively with all bite situations, which might require other points of anchorage. That's where these other tools in the orthodontist's toolkit can come in handy.
Headgear. These appliances not only aid with moving teeth but they also help influence the proper growth of facial structures (as when one of the jaws is too far forward or too far back). Because of this influence on jaw growth you'll only find them used with pre-teens. The most typical application is a strap running around the back of the head or neck (or sometimes over the chin or forehead) that attaches in the front to brackets usually bonded to the molars. In this case the back of the patient's skull serves as the anchor point.
Temporary anchorage devices (TADs). Orthodontists sometimes wish to isolate the teeth to be moved from nearby teeth that shouldn't be. For example, they may want to move front teeth back to close a space without the back teeth moving forward. In this case, it may be necessary to create a separate anchorage point in the jaw. This can be done with TADs, which are made of either biotolerant (stainless steel, chromiumâ??cobalt alloy), bioinert (titanium, carbon), or bioactive (hydroxyapatite, ceramic oxidized aluminum) materials and shaped like mini-screws. Orthodontists insert them into the bone and then attach them to the braces using elastics (rubber bands). After completing orthodontic treatment they're easily removed.
Elastics. We've already mentioned them, but elastics deserve their own category because they can be used in various kinds of anchorage. They play an important role, for example, in cross-arch anchorage that maintains tension between the upper and lower jaws. They can also be used to help move one or more groups of teeth — or isolate certain teeth from moving. They truly are flexible (no pun intended) in their uses for fine-tuned tooth movement.
All these devices can be used in various combinations to match and correct whatever bite situation a patient may have. The end result is straighter and better-functioning teeth — and a more attractive smile.
If you would like more information on orthodontic treatment, please contact us or schedule an appointment for a consultation. You can also learn more about this topic by reading the Dear Doctor magazine article "Orthodontic Headgear & Other Anchorage Appliances."