My Blog
Posts for: November, 2018
By Southern Maryland Family and Prosthodontic Dentistry
November 20, 2018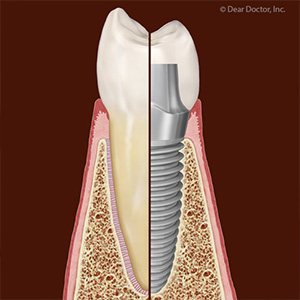 There are several reasons why dental implants are so popular. Perhaps the most important, though, is their longevity: if maintained properly implants can last for decades. However, they're not indestructible—certain mouth conditions could put them at risk for early failure. But if you address emerging problems early, you may be able to prevent that unfortunate outcome.
Your implants may be in danger, for example, if you have a teeth grinding or clenching habit. This occurs when a person involuntarily and repeatedly bites down on their teeth when not chewing or speaking. Usually triggered in adults by high stress, teeth grinding can subject both natural teeth and implants to damaging levels of force. Over time this can cause bone loss around an implant and weaken their support. It could also cause a direct break in an implant.
But there are ways to stop or at least reduce the effects of teeth grinding. One effective way is a custom-made bite guard you wear while you sleep. Made of hard plastic, the guard prevents the teeth from making solid contact with each other, reducing the amount of force generated.
A more prominent problem is periodontal (gum) disease, a bacterial infection caused by built-up dental plaque on tooth surfaces. This can trigger inflammation, a normal defensive response that when it persists for an extended period of time can damage tissues and supporting bone. It can also cause a specific form of gum disease related to implants called peri-implantitis, in which the tissues that support an implant become infected and weaken, leading eventually to possible implant failure.
If you have implants, then, you should brush and floss daily to prevent gum disease, as well as see your dentist at least every six months for cleanings and checkups. And if you notice anything like reddened, swollen or bleeding gums, see your dentist immediately. The sooner you undergo treatment, the better the outcome for your implants as well as your overall health.
Dental implants can give you years of great service and can prove to be well worth the cost. But you'll have to stay on your guard against gum disease and other mouth conditions that could endanger them down the road.
If you would like more information on dental implants, please contact us or schedule an appointment for a consultation. You can also learn more about this topic by reading the Dear Doctor magazine article "Dental Implants: A Tooth-Replacement Method that Rarely Fails."
By Southern Maryland Family and Prosthodontic Dentistry
November 10, 2018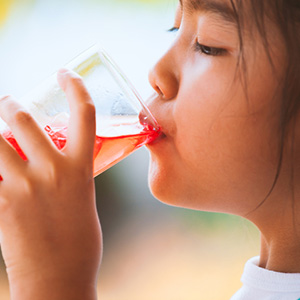 Along with daily brushing and flossing, limiting your child's sugar consumption is an important way to prevent tooth decay. We all know the usual suspects: candy, sugar-added snacks and sodas. But there's one category you may not at first think fits the profile—juices. But even natural juices with no added sugar can raise your child's risk of tooth decay if they're drinking too much.
Tooth decay is caused by certain strains of bacteria in the mouth, which produce acid. Sugar in any form (sucrose, fructose, maltose, etc.) is a primary food source for these bacteria. When there's a ready food source, bacteria consume it and produce abnormally high levels of acid. This can cause the mineral content of tooth enamel to dissolve faster than saliva, which neutralizes acid, can reverse the tide.
Juices without added sugar still contain the natural sugar of the fruit from which they originate. The American Academy of Pediatrics conducted a study of the effect of these natural juice sugars on dental health. Their conclusion: it can have an effect, so the amount of juice consumed daily by a child should be restricted according to age.
They've since published guidelines to that effect:
Under age 1 (or any child with abnormal weight gain): no juice at all;
Ages 1-3: no more than 4 ounces a day;
Ages 4-6: no more than 6 ounces a day;
Ages 7-18: no more than 8 ounces (1 cup) a day.
Again, these are guidelines—you should also discuss the right limits for your individual child with your dentist or pediatrician. And if you're wondering what kind of beverages pose less risk of tooth decay, you can look to low or non-fat milk. And, of course, don't forget water—besides containing no sugar, nature's hydrator has a neutral pH, so it won't increase acidity in the mouth.
Tooth decay is one of the biggest health problems many kids face. But with good teeth-friendly habits, including restricting sugar intake in any of its many forms (including juices) you can go a long way in reducing their risk of this destructive disease.
If you would like more information on best dental care practices for children, please contact us or schedule an appointment for a consultation.